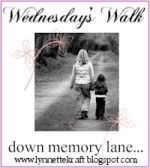 It's Wednesday.. So I want to start my Wednesdays Walk down memory lane series! This was started by Lynette Kraft at Dancing Barefoot on Weathered Ground. This is a fun opportunity to document some of the things you don't want to forget and share those memorable times with others so we can enjoy them too. You can visit her site by clicking the picture above to share in her memories as well as others.
I thought it would be fitting to start at the beginning; so today I choose to share and remember the day we met Brayden Russell.
This pregnancy was so different than my first... in so many ways. We decided to find out the sex so that we could be prepared. We already had lots of boy things but if this was a girl we knew we would need some things. We were extatic when we found out he was another little boy. The boys would be close and age and we had hopes of them being close and enjoy playng together.
Because Nathaniel was a c section, Brayden was a scheduled repeat section. My mom came up to help with Nathaniel and be with me for a while. It was soo great having her around to help!!
We were a scheduled section and I was not in labor so we ended up getting bumped not once but twice for emergencies. Finally, after lots of waiting we met our little Prince.
Brayden Russell was born on Januaary 5, 2007 at 2:18p.m.
weighing 8lbs 4.5oz 21in long.
Perfect.

The first time I was able to hold him in my arms... undescribeable!

Such a proud daddy!!

Excited Big Brother!!!

Ny favorite picture!! I love that this shows Daddy's hands, Nathaniel's hands surrounding Brayden.

Our family!







This is such a special memory, thank you for allowing me to share it with you! This day is one that we will cherish forever and never forget!