Each day I am amazed and blessed by this "blog world" I have become part of... I started following a few new blog's recently. I have been blessed by the encouragement of others and have found quite a "family" of people who are also going through trials of their own. My prayer is that we are able to encourage and lift one another up as we walk our journey's.
I have decided to take part in Wednesday's Walk Down Memory Lane... started by Lynette Kraft. When I began this blog I wanted it to be a place for me to journal, write out my thoughts, feels, and struggles... but also to capture and write out memories. I think that doing this on wednesday's will be a great way for me to remember all the wonderful moments we shared with our precious Brayden.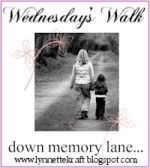 We were given 17 months and one day with our sweet baby boy... I say that number and it hurts. It was not long enough... a life time would not have been long enough to spend with my Brayden. As I read other stories of familes who have or are going through loss I am humbled and heart broken. So many families are only given moments, or days, with their children. I can't begin to imagine how hard it would be to have to say goodbye to a precious little one after carrying them for 9 months... before ever getting the chance to meet them.
I need to treasure the gift we were given. So many moments, so many days,... so many months. I was blessed. I AM blessed... with 17 months. of a life shared. With HUNDREDS of pictures. With MANY memories. With the promise of Eternity. What a day it will be to be reunited with my baby boy... and to spend eternity together in the presence of our Heavenly Father.
Until that day, I want to live a life that Honors my Savior, and Honors Brayden's life. I want my life, my journey, my story to touch others. I want to allow God to complete the work He was begun in us and "work all things together for the good of those who Love Him and are called according to His purpose."
It's late and I need to get some sleep... so I won't be starting this until next week... but I am looking forward to taking the time to cherish the time spent and sharing the memories of my precious gift...